Recently my iPhone became very slow, it hardly responded anymore. I tried to fix it in several ways, but nothing helped. After searching the Internet for a while I found several potential solutions and at least 3 were helpful to me. Feel free to try yourself!
1. Reboot your iPhone on a regular basis
Especially when you are frequently installing apps from the App Store you should reboot your iPhone after the installation has finished. It seems that your phone needs to clean up some memory space. Switch your iPhone off by pressing the on/off button on top for a while to reboot.
2. Close your web pages
In general I don't close the web pages I've been browsing with my Safari browser. Keeping these pages opened seems to use a lot of memory and will reduce the performance of your iPhone. Close a page by clicking the numbered icon on the right bottom, close by pressing the cross.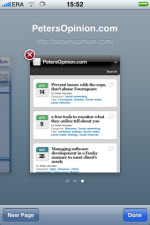 3. Clear the browser cache
Clearing the browser cache improved the most for me. This option is a bit more hidden. Choose the "Settings" icon on your "home" screen. Look up the "Safari" line and click.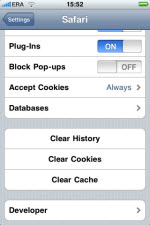 There you will have to select "Clear Cache". Also "Clear History" and "Clear Cookies" (be aware that you will loose some default settings) could improve the performance.
After performing the above actions my iPhone started performing better again. Hopefully it will help you as well. In case you know other improvements, please share below.