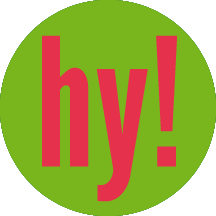 It's June 2nd, 12 degrees and raining. That's not what I was hoping for when booking my trip to Berlin. This evening one of the most exciting European entrepreneurial events takes place: Hy! and hopefully it's true. This evening's pitches and the after-party will have to heat up the audience. Will they manage?
hy! invites awesome technology pioneers on stage in Berlin. A show with lots of entertainment and jaw-dropping stories of entrepreneurs & designers has been promised. The audience will get an exclusive glance at great new products and support startups from all around Europe competing in hy!'s trademark competition.
I'm really curious how the Berlin startup scene compares to or differs from others.
The event is fully sold out and probably it would be anyway too late to join. The good news is that you can also follow the livestream online from 6 pm CEST!