You might think it's crazy, 1200 startups in 58 hours. Although, it might sound like a crazy idea, it's this weekend's aim of the Global Startup Battle, a new initiative of Startup Weekend. Across the whole world entrepreneurs will come share ideas, form teams, and launch startups in just 58 hours. The history has shown that this can result into successful fundraising startups. Also Trójmiasto (the agglomeration of Gdansk, Sopot and Gdynia in Poland) has its own Startup Weekend which will start Friday, November 9 at 7 pm. The location of the weekend is the Pomeranian Science and Technology Park in Gdynia. Do you dare to join? For sure I will be there!


Stimulating local entrepreneurship, I'm in
Just some weeks ago I've visited Silicon Valley. Since then we've been discussing how to stimulate the entrepreneurial climate in our region. Copying the Silicon Valley concept is not what we should aim for, but stimulating entrepreneurship is what can be done. The Startup Weekend is such a great initiative that let "entrepreneurial" people experience that they can do great things together in little time.
I will attend the Startup Weekend as a coach, hoping I can be of some added value to the teams. It will be my first Startup Weekend and I'm really curious what it will be like.
[vimeo 32424882 width=640]
The concept seems simply effective
All Startup Weekends follow the same basic model: anyone is welcome to pitch their startup idea and receive feedback from their peers. Teams organically form around the top ideas (as determined by popular vote) and then it's a 54 hour frenzy of business model creation, coding, designing, and market validation. The weekends culminate with presentations in front of local entrepreneurial leaders with another opportunity for critical feedback.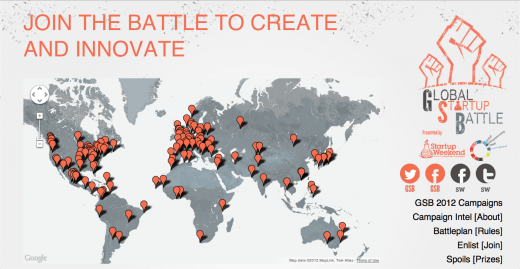 Startup Weekend Trójmiasto is part of the Global Entrepreneurship Week. Thanks to that winners will be eligible to compete in the Global Startup Battle not only for fame and glory but also for very cool prizes like a trip to the Global Entrepreneurship Congress in Rio De Janeiro, a trip to Silicon Valley and $50,000 in services and more!
Whether entrepreneurs found companies, find a cofounder, meet someone new, or learn a skill far outside their usual 9-to-5, everyone is guaranteed to leave the event better prepared to navigate the chaotic but fun world of startups.
Will this be something for you? Probably yes!
Startup Weekend attendees' backgrounds are roughly 50% technical (developers, coders, designers) and 50% business (marketing, finance, law). What unites all attendees is a common interest in entrepreneurship: whether a serial entrepreneur or new to the startup scene, every attendee is interested in working with a like-minded, motivated and skilled team to develop a product or business in one weekend.
If this sounds like you, this is the event for you! And why wouldn't you give it a try? 54 hours of fun, an after party and the chance you will start your own company! For € 36 – € 40 you can register. This registration fee is basically to cover the food, drinks and snacks during the weekend. You can register here, but be quick, the weekend starts soon!
I will try to keep you posted through my blog and for sure via my Twitter account @PetersOpinion.