In the age of social media, the line between reality and perception has become increasingly blurred. Elon Musk's recent tweet, "If you don't like reality, just ignore it", has sparked heated debates, with many questioning its implications. To delve deeper into this issue, we can turn to the words of Ayn Rand: "You can ignore reality, but you can't ignore the consequences of ignoring reality." Although these two influential figures never had the chance to exchange ideas directly, as Ayn Rand's quote originated from her book "Atlas Shrugged" published in 1957, the online comparison of their thoughts has sparked an important debate.
If you don't like reality, just ignore it

— Elon Musk (@elonmusk) March 31, 2023
It is difficult to ignore the harsh reality
Unfortunately, I don't know Elon Musk's intent for this tweet. It's quite likely he is provoking, but allow me to delve into a philosophical perspective on it. At certain moments, if you don't like reality, it might even be good to momentarily escape from it. At the same time, there is a lot of truth in Ayn Rand's statement. You will have to face the consequences of your escape.
Three weeks ago, when visiting Ethiopia, I could see firsthand that poverty is all over the place. According to the World Bank data from April 2023, 24% of Ethiopians live below the national poverty line. Furthermore, a recent study by the Policy Studies Institute has found that 68.7% of the population is multidimensionally poor, while another 18.4% is at risk of becoming multidimensionally poor. Multidimensional poverty, as defined by OPHI, is a broader and more comprehensive measure of poverty that takes into account various factors beyond income or consumption levels.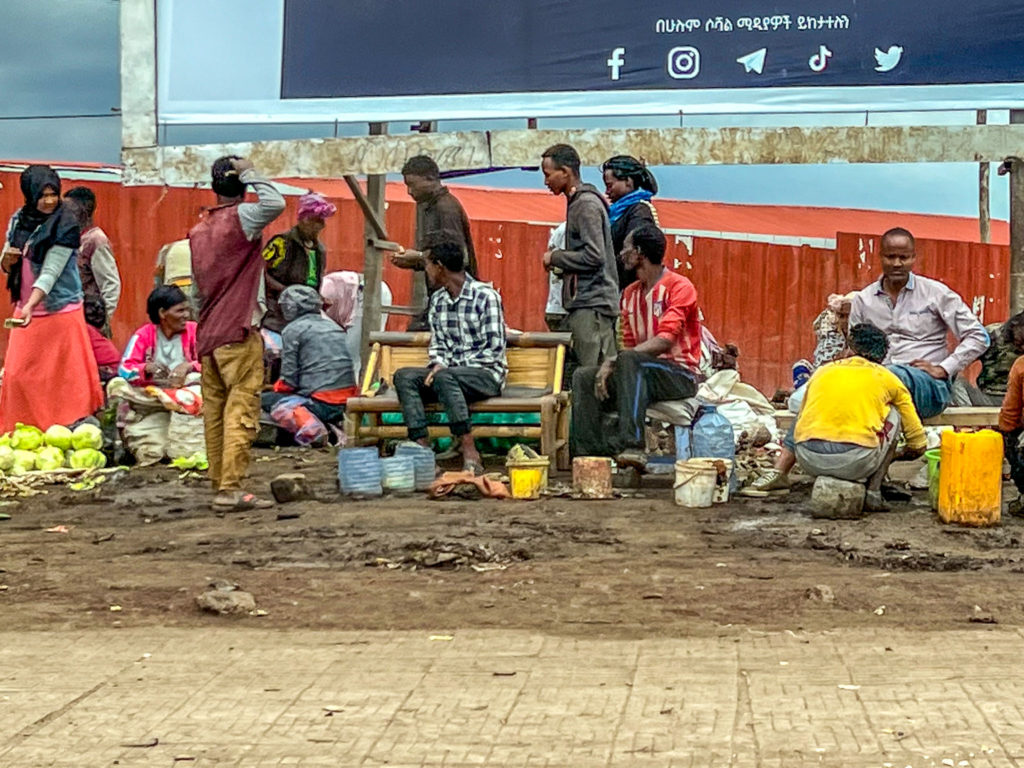 Despite their circumstances, I also observed that many people were trying to make a living by trading goods, you could say entrepreneurship was everywhere, which was rather energising to me. They may not like their reality, but they're striving to make the best of their circumstances opposite to ignoring it.
To me, the statistics clearly reveal the harsh reality of poverty in Ethiopia and what I have seen remains returning in my head, which is difficult to ignore, and I think we shouldn't. However, it's essential to remember that poverty is not limited to Ethiopia; it's a pervasive issue affecting countless communities worldwide, demanding collective action and compassion.
We are in it together!
Global challenges like poverty, conflicts, climate change, and natural disasters persist, demanding our attention and effort. We cannot afford to ignore these realities, and it is vital that we come together to create a better future for all. And we are in it together, as less inequality benefits us all according to an OECD publication.
With this in mind, I'd like to extend a playful yet sincere invitation to Elon Musk, a man who has demonstrated an extraordinary ability to bring about transformative changes in various industries. Dear Elon, as someone who thrives on pushing the boundaries of what is possible, we invite you to LIKE what we are doing and to lend your support to our cause.
As part of AgUnity, we are working closely with numerous smallholder farmer cooperatives and supportive partners to implement sustainable supply chain transformations in Africa and South-East Asia, where poverty and inequality continue to prevail. We believe that your influence, pioneering spirit, and financial resources could greatly contribute to making a substantial difference in these regions. While we may not have the power to ignore the harsh realities of the world, united, we can undoubtedly work towards creating meaningful change.
Will Elon join our mission?
So, Elon, what do you say? Would you be willing to join us in our mission to create tangible improvements in the lives of countless individuals across Africa? By embracing the complexities of reality and taking action, we can create a future in which no one needs to ignore the world's problems because, together, we've made them a thing of the past. I LIKE that thought, and hopefully, you do as well. Let's not ignore this one.