Oscar-winning director Andrzej Wajda will soon finish filming a biopic in Poland about former Solidarity Union leader, President and Nobel Peace Prize winner Lech Walesa. Currently they are filming the last scenes in the Gdansk shipyard and today I had the honor to be part of it! Later this year we will be able to see the result.
Walesa world famous but not in Poland
Walesa, 68, who launched the Solidarity movement and was elected the first democratic President after the Communistic regime, is famous abroad, but has a difficult relationship with his fellow country men. Many of his colleagues during the 80s didn't understand why he should profit more from the revolution than the others who played probably a similar role. The fact he ran for President didn't make the situation any better.
When Walesa speaks in public, the Poles might laugh about him. Too often he's saying things which are hard to be understood. People claim he's just a simple electrician who shouldn't try to play the elite game.
Worldwide Walesa is highly respected and abroad he's the symbolic representative of the Solidarity movement. He highly influenced today's European freedom, we shouldn't neglect that. Anti-communistic thoughts started spreading rapidly among Europe once Solidarity in Poland appeared to be successful. Among others this resulted in the fall of the Berlin Wall.
The Polish attracting mystery
I still remember we were following the developments in Poland through the daily prime time news. The Gdansk shipyard strikes were big news in The Netherlands. Dutch people were supporting the Poles among others by sending trucks filled with (non)food packages.
Of course it happened all far away, behind the iron curtain, but that made it even more mysterious and meanwhile more interesting. In fact Solidarity awakened my personal interest in Poland. And therefor I believe the Polish Solidarity movement together with Lech Walesa deserve a movie.
The main question was who should make it.
"I don't want to but I have to," Wajda, 85
Wajda expressed the difficulty of this movie at a press conference, repeating a famous line used by Walesa when he ran for President for the first time. He started filming in December 2011 and this week they plan to finish. Probably around December the movie "Walesa" will be released.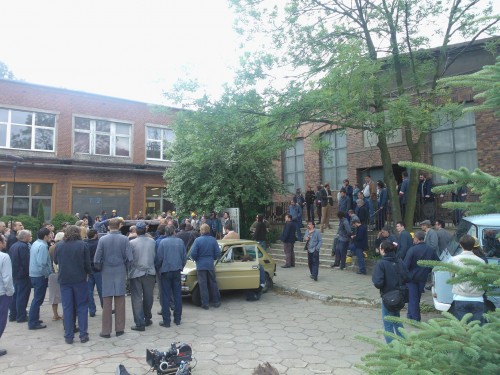 My personal seconds of fame
Through a friend of mine I was asked whether or not I would like to play a foreign journalist in a movie about Walesa. As you might realize by now, I didn't have to think twice.
Today at 7 am we registered at the shipyard. Over a hundred of people were already there to be part of it. Everybody got dressed according to the 80s fashion, hair cuts got adjusted.
Seeing all those people standing there it really felt like we jumped on a time-machine which took us back to 1980. Amazing what clothes can do.
By bus we were taking to the BHP building where on 31 August 1980, the communist government, represented by Mieczysław Jagielski, signed an accord (the Gdańsk Agreement) with the Strike Coordinating Committee. The agreement, besides granting the Lenin Shipyard workers the right to strike, permitted them to form their own independent trade union. The Strike Coordinating Committee legalized itself as the National Coordinating Committee of the Solidarność (Solidarity) Free Trade Union, and Wałęsa was chosen chairman of the Committee.
http://twitter.com/PetersOpinion/status/217889471100751874
Today I had to play one of the foreign journalists taking pictures of Walesa and shouting questions towards him while he was leaving the building after this first victory.
Wajda, whose previous films include The Promised Land, Man of Iron and Bafta-winner Katyn, said it would be "the most difficult movie I have made in my life". It was amazing to see him working at his age. He was really focussed on many slight details. Besides, it was impressive to see how they were quite easily handling the big crowd of people who represented different groups.
It was great to be part of it for one day and I'm looking forward to the movie. I'm curious how many seconds of "fame" I will get.