Social media are there to stay, whether you like it or not. At its best you can make advantage of them by including social media into your marketing and communication strategy. But at least you will have to follow what people are online telling about your brand, product or you in person. But how do you do that? How can you prevent this becomes a time consuming task? I will explain two tools which I use frequently.
Every day huge amounts of information are being added to the Internet. Think of blog posts, reviews and comments, news items and updates from various social networks like LinkedIn, Facebook andTwitter. It is impossible to keep track on everything. Yet this is important.
It's fun to see how others write positively about you. A thank you message by you should follow. And it's even more important to act quickly when someone's sharing their dissatisfaction. An accurate response to a negative expression is a very good impression among online users. Everyone realizes you can make mistakes. This is not a shame if you at least react with an appropriate response.
Fortunately, there are several tools that continuously scan the Internet for new expressions. Besides several expensive solutions, there are two very good free solutions: Google Alerts and Social Mention.
Google Alerts, e-mail with the most recent Google search results
With Google Alerts you receive daily or weekly by email updates of the latest relevant Google results (web, news, etc.) based on the query you have defined yourself.
You can use Google to search for any random keyword, think of:
Your company name
Product name
Names of employees
Names of competitors and industry relevant keywords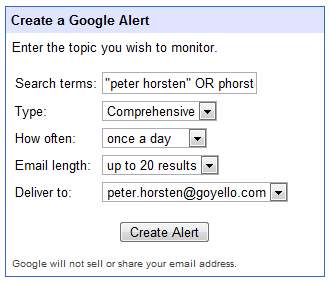 On the page of Google Alerts the requested Alert can be created. In the above picture you will see I created an alert for the following "search string":
"peter horsten" OR phorsten OR petersopinion
Determining the right search string is relatively simple by using the Google advanced search page. Enter the keywords Google should continuously search for. Click on "Google Search" and the Google search box shows the search string to copy.
You will receive an e-mail to confirm you would like to receive the alerts, instantly, daily or weekly. Once you start receiving the alert a quick analysis of the e-mail message will show whether or not immediate action is needed.
Social Mention, real-time social media search and analysis
Social Mention, the Google Alert for social media. Gradually, this distinction is disappearing. Google Alerts, like Google, now fully focuses on social media as well. The basic concept of Social Mention is similar. Again, a search term can be made (also to be determined using the Google advanced search method described above) and the result will be send by e-mail as well. The big difference is that you can instantly watch the result online, including additional statistics.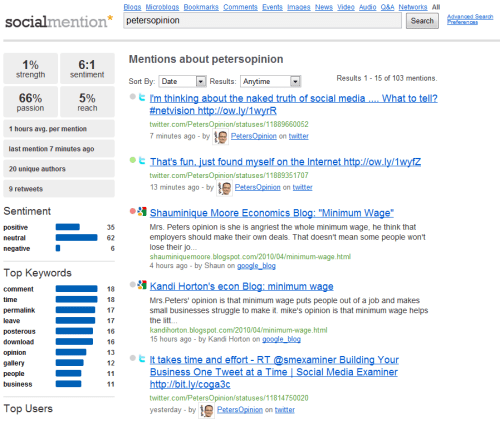 What I recommend?
Normally I don't mind to share my opinion …. In this case, I think both solutions are useful. Social Mention certainly has the advantage of the immediately visible online result. Tuning the search terms is therefore more convenient. Social Mention also gives more additional statistics. On the other hand, Social Mention mainly shows results from Social Networks and Google Alertsseems better in showing results like blog posts.
Advice: Just try them both and see for yourself what is best and / or works most enjoyable. I invite you cordially to share your opinion below. Let's learn from each other!