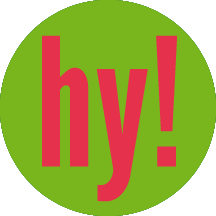 Increasingly, you will find in many cities call outs to entrepreneurs to jump on the stage and shout out their awesome ideas. I really like this trend and support it whenever I'm able to. Currently, applications are still open to the hy! pitch competition. Startups will have a chance to win €30,000 in cash, a tour of Silicon Valley, receive extensive media coverage and mingle with top leaders and investors in tech. Deadline to apply on May 12th, 2013. Why not give it a try?

hy! is an event series aiming to connect the global startup community and immerse guests in the culturally rich and vibrant startup hub of Berlin. The event will feature awesome entertainment, interesting dialogues on entrepreneurship and innovation, and a pitch competition among a small number of exciting European companies.
Attendees this year includes, Jawed Karim (co-founder of YouTube), Charles Adler, (co-founder of Kickstarter), Travis Kalanick (co-founder of Uber), Matthew O. Brimer (co-founder of General Assembly), Mathias Döpfner (CEO of Axel Springer) and more to to be announced.
The event is happening on June 2nd, 2013. Attend (20% off with the code hylander) or apply to be one of the pitching companies.
A bit more about hy!
hy! is an event series in Berlin addressing all those who are enthusiastic about pioneering products and their designers. During hy!, emerging startups and established entrepreneurs come together to push the creative digitization of the European economy. Each event connects the global startup community by giving upcoming entrepreneurs the chance to present themselves to a large audience of interested innovators. Participants can network with well-known figures from politics, media, and the technology scene. Founded in 2012, the third event takes place June 2-4 2013. hy! is organized by the Berlin based entrepreneurs Hans Raffauf and Aydogan Ali Schosswald. In January 2013, publisher Axel Springer AG invested in the operating company hyvent GmbH.