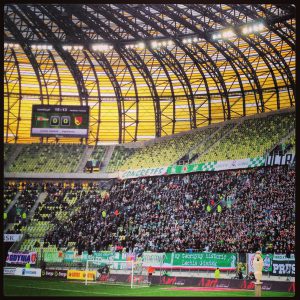 Today live coverage of the Lechia Gdansk football match on Instagram by a group of local active Instagramers. Probably it's the first time in Poland that such an event is being covered by using Instagram. Igersgdansk, the Gdansk based Instagram group, selected Instareporters based on the best pictures with the tag #igersgdansk on Instagram. I got invited as well, but unfortunately I cannot make it today. My son, supervised by my wife, will be there. For him, being a real football fan, it will for sure be an amazing experience and I will follow them on my phone.
What is Instagram?
As an Instagram user you might even forget that probably not everybody knows about it. Instagram was launched in October 2010 by co-founders Kevin Systrom and Mike Krieger. Instagram is a fast, beautiful and fun way to share your life with friends through a series of pictures. Simply snap a photo, then choose a filter to transform the look and feel. Pictures are shared on Instagram, and can be easily uploaded to other social media platforms including Twitter, Facebook, Flickr and Tumblr.
A distinctive feature is that it confines photos to a square shape, similar to Kodak Instamatic and Polaroid images, in contrast to the 16:9 aspect ratio now typically used by mobile device cameras.
The service rapidly gained popularity, with over 100 million active users today. Instagram is available for Android, iOS and recently for Windows Phone as well.
Users grouping around tags
The usage of tags (a '#' sign followed by a descriptive word) allows users to find and then follow each other quickly. People even gather themselves around such tag. The Gdansk Instagram community is an example. Instagrammers living in/around Gdansk share their local pictures with each other using the tag #igersgdansk (Instagramers Gdansk). In other cities you will find the same #igerscity, like #igersberlin.
Recently igersgdansk invited its monthly winners to become a fully accredited reporter for one day. Today, 9 Instagramers are official InstaReporters of the football match in the T-Mobile Ekstraklasa (Polish League). The match between FC Lechia Gdansk and FC Gornik Zabrze at the PGE Arena in Gdansk starts at 4 p.m. June, 2nd 2013.
Follow the live Instagram coverage
Personally I really like this 'experiment' and it's a pity I cannot be there. Fortunately, it will be easy to follow the result by following the hashtags #igersgdansk and #lechiagdansk on my iPhone. Another possibility is following the livestream online through one of the available web apps, like Statigram.
Follow InstaReporters, @igersgdansk and @lechia_gdansk on Instagram to see "behind-the-scene" pics from the PGE Arena. The InstaReporters are: Jaroslaw Marciuk – @jaroslaw_marciuk, Alicja Kosicka – @alicjakosicka, Piotr Welniak – @panpiter, Agnieszka Pomaska – @pomaska, Anna Wrona – @maslo6, Daria Wojcik – @1funnygirl1, Dorian Horsten – @dorianhorsten, Katarzyna Szemro – @kszemro, Lukasz Stafiej – @lstafiej.
The InstaReporters project was created by the IgersGdansk (Instagramers community of Gdansk, Sopot, Gdynia and Pomorskie Region @igersgdansk) and Lechia Gdansk Footbal Club. Jaroslaw Marciuk (IgersGdansk founder) and Mariusz Kordek (FC Lechia Gdansk) are the project managers. Visit also www.igersgdansk.tumblr.com and www.lechia.pl
Some of the most recent pictures tagged "lechiagdansk" are shown below:
[alpine-phototile-for-instagram user="petersopinion" src="global_tag" tag="lechiagdansk" imgl="instagram" style="gallery" row="4″ grwidth="800″ grheight="600″ size="M" num="8″ align="center" max="100″]