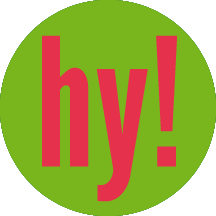 They made it certain at Hy! that they do know how to organise an impressive event in Berlin. At a well-decorated and catering equipped Hy! entrepreneurial event we had a healthy start with all the free whole food and cocktails which calls for compliments to the founders Hans & Aydo and their team. A lot of information was shared, which I tried to wrap up through this post. What lessons can be learned? Please read on.
Through this truly awesome Sunday evening show we were guided by a rather eccentric individual, Milo Yiannopoulos (@Nero). He had to deal with quite a tight schedule, which always has some good and bad sides. One thing certain, it prevented the all-boring, usual discussions at the end. However on the other hand, the interesting talks had a time obstacle as well.
Nevertheless, there was not one really dull moment during the show!
The Berlin entrepreneurial spirit
From what we can observe Berlin is more and more eagerly becoming the major startup hub in Europe. It's obliviously a cool city with a lot happening, but apart from that it has a startup friendly infrastructure, which includes several promising tech incubators and accelerators.
The presence of the big players, such as Google and Microsoft is also getting useful, since both have been involved in multiple acquisitions of Berlin-based startups, which consequently stimulates others to emerge with their fresh business ideas. Especially that seed and angel funding is getting widely available.
The positive vibes send out by the city were easy to feel during the show.
Our world is changing and we have to act
Partly thanks to Milo we tackled some essential topics, among others, that the changes in our world come fast, but what we tend to forget is that they will keep on speeding up.
Mathias Döpfner (CEO of Axel Springer) made a good point here by saying that he's fed up hearing that there is an ongoing "media crisis". It's true we are consuming more news than ever before. Then again we seem not to be willing to pay for it. Therefore, is proper investigative journalism coming to an end? I mean, many newspaper companies are having a hard time now, but Mathias believes it's just a matter of figuring it out how to make a better use of current opportunities.
Complaining about the rapidly changing situation and meanwhile trying to optimise the old-fashioned ways of working won't bring us any good. What we have to do is to use what's available today and anticipate what will be used tomorrow. Yesterday won't give us any refunds anymore.
Never stop learning
The rapid technological advancements and the accompanying opportunities mean that we will have to be able to absorb new knowledge and information very quickly. The existing educational system won't be able to sufficiently adjust the curriculum to the fast-paced labour market. This is not a complaint, but just basically a fact.
Your education should always be in beta, it's never finished @brimer #hyberlin

— Peter Horsten (@PetersOpinion) June 2, 2013
Private initiatives will be needed and are already there to bridge the gap in between the market demands and the educational system offer.
There's too little focus on developing devices
In the meanwhile of all the exciting software and media news, we focussed on hardware innovations. Everyone is already taking it for granted that technology is becoming more and more connected. Apps and devices support us for example in improving our health and The Internet of Things is waiting just around the corner. The question was whether the next wave of consumer technology is approaching soon?
People are looking for cool gadgets, while the industry has basically been sleeping. Some big players still focus on devices, but in general for startups it is easier and less risky to work on software solutions.
Nonetheless, the "hardware" panel at Hy! showed us several cool things they are working on. The biggest news was probably the launch of a new hardware accelerator in Berlin, http://berlinhardwareaccelerator.com/ – "Go there to make some cool shit!"
Be super, super fast because #mobile goes 3 times faster than the Internet revolution did mentioned @Jan_Beckers at #hyberlin

— Peter Horsten (@PetersOpinion) June 2, 2013
Focus is essential
Jan Beckers (@Jan_Beckers) of Hitfox clearly illustrated the speed of change and pointed out that to win, you need to focus.
A new wave of mobile companies will disrupt the Internet market, which had disrupted the offline markets some years before. Today you might be sitting back satisfied behind your desk, tomorrow this may change. Just think what happened to for example Kodak and now Atari losing in the gaming market, because most of the games are mobile.
To be successful as a startup he advises:
Focus on international market from day one – you need to be ready to grow big once you are successful.
Launch a separate mobile subsidiary lead by a person who lives, thinks and dreams "mobile". This is not a side job for a going concern manager, at least not if you want to win.
Be super, super fast because mobile goes 3 times faster than the Internet revolution did.
The looks are more important than ever
With all new technologies available to basically everyone, it's really hard to differentiate from your competition in the software industry.
What became clear from several presentations is that User Experience (UX) is therefore more important than ever before. The way your solution looks, the way it feels, its user-friendliness is what sells today. And don't forget to make sure it suits your audience by checking what they like. Women do not necessarily like pink apps, whereas Milo loves pink socks.
I will spare you all kind of "special announcements" and "proudly presents" because they were especially cool for the insiders. The above is what I got from the first part of the evening. After the break the startup competition took place. This will be covered as a separate blog item. It was a great energising evening and a wonderful networking activity, because that's definitely what Hy! is about.
One critical remark might be that the event is a bit too much about promoting the Berlin successes. As for me, there was also too much promotion. I believe that it was all too little about the road how to become successful. Hardly any "failures" and their lessons learned were shared.