For the seventh time already infoShare takes place in Gdansk. This successful New Media Conference had to switch the location. Last years it was hosted by the Gdansk Technical University, but the space there was no longer sufficient. The brand new Amber Expo is hosting infoShare 2013. The event brings together hundreds of entrepreneurs, designers, marketers, software developers, etc from around Poland. They will be inspired by (inter)national experts to stimulate the entrepreneurial spirit in Gdansk/Poland.
The startup explosion around the world promising and scary
Gabriel Baldinucci of the Singularity University shows why entrepreneurship is exploding all over the world. It's partly thanks to the availability of affordable technology, among others made available by entrepreneurs to other entrepreneurs.
Technology is very disruptive. Kodak, once a very big company, lost its place in the market while 13 young people realized the higher valued Instagram. A 15-year-old boy is researching how to fight cancer through Google and he's successful.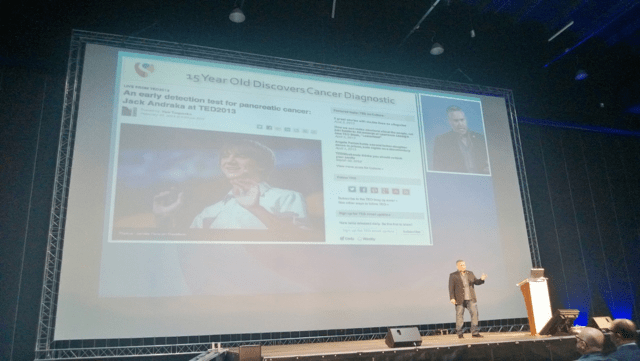 Researchers/entrepreneurs increasingly manage to let machines and robots act like humans. IBM's Watson beats people, robots walk almost like humans and fly like birds. Google cars don't need a driver any longer. Technology, biotechnology included, offers many possibilities, but scares us as well. What will it mean for our society? Nobody wants his neighbors to use a drone he could spy with and we don't want genetic manipulation to lead to strange animals.
We can just see the tip of the ice berg, a lot more will be possible soon. The purpose we use all these possibilities for might become an important question, because abuse will have a big impact on our society.
The Silicon Valley vision
Based on the amazing successes they managed to achieve in Silicon Valley, many people believe they should try to copy what they did there. Unfortunately, this is close to impossible. The ecosystem they managed to establish in Silicon Valley over a period of decades cannot be copied and probably this even shouldn't be our aim. But still we can learn a lot from them of course. For example the second keynote by Fadi Bishara is such an inspiring moment. Last year I had the opportunity to meat with Fadi at the Blackbox.vc mansion in Silicon Valley. His effort to introduce European entrepreneurs to Silicon Valley has proven to be of great value.
The 5 key factors for a good startup
Too many people believe the main thing you need to launch a startup is a good idea. Fadi made clear this isn't what it is all about. A potentially successful startup needs more, a lot more.
Team: At the beginning the team of co-founders should consist out of 2-3 people. Most startups fail because of founders' issues, so putting together a good team is essential. Look for partners who are different from you, complementing personalities make the difference. You need to fully respect and trust your partners. Experience is less important than creativity and passion. Most startups are any way working on something new/innovative and because you spend a lot of time on it, you'd better like it.
Customer: The customer is always right and isn't a pain in the ….. The customer is the most important of the five, without a customer no business. You need to listen to the customer and drop what you think is right.
Product: Be aware that a product is NOT a Startup. They have their own life cycle and like mentioned before without clients a product is useless. Be willing to kill your product and start over again in case needed. Your product has to solve a problem and it works best if you feel the pain of that problem yourselves, because then it will be easier to develop an awesome solution.
Business model: This is sometimes the hardest thing, but for sure the thing investors will be asking for: "How will you earn money". But sometimes this is very hard to define upfront. Even companies like Google didn't know upfront what their exact earning models would be.
Financials: When you want to start a Startup you should be ready to live in survival mode. Your initial financial needs are just the level to survive the first stage. What do you really need to build a first minimum viable product and to run it for a while? Your basic monthly needs multiplied by the amount of months you need is the total survival budget you really need. Very often you will find this budget among family or friends. In case you manage to make clients pay for your initial solution it's ok as well. Later on you might consider looking for Angel Investors or Venture Capital. Once you start growing your team make they feel the ownership together with you. In Silicon Valley it's normal that everybody, the secretaries etc included, will receive equity.
Too little focus on how we can do it ourselves
The final panel discussion on day 1, moderated by Krzysztof Kowalczyk and with Aleksander Shulgin (Russia), Fadi Bishara (Silicon Valley), Nicolas Brusson (France, Silicon Valley) and Christoph Räthke (Germany, Berlin) as participants, discussed startup ecosystems outside Silicon Valley. Of course such a diversity in panel members leads to nice discussions. As a take-away I believe the audience wanted to hear at least some small steps we could take in Gdansk/Poland to stimulate entrepreneurship locally.
Unfortunately, many topics were about matters that are hard to be influenced. Among others was discussed that the entrepreneurial climates in the US, Russia and Israel are better thanks to the big investments in the military industry. Besides, the panel focussed on the reasons why Facebook's and Google's are not coming from Europe. One of the major reasons seems that we Europeans decide to cash too early and don't dare to go the last mile. Also the capital for such big investments seems to be lacking in Europe.
Of course it's nice to think big, but do we have to think that big on day one? We can just start stimulating students and young professionals to give entrepreneurship a try. The panel advised such entrepreneurs to leave and to go to entrepreneurial areas like Berlin. But what will we locally gain if every entrepreneur is leaving? Then we will never manage to build the right climate here. I agree it's good to be inspired by and to link with other entrepreneurs and to visit great events in other entrepreneurial ecosystems, but that doesn't have to mean you relocate there.
Startups better build the initial solution by combining existing software and build it custom after raising funding #is2013 #infoShare

— Peter Horsten (@PetersOpinion) May 16, 2013
Think big, but start small
Fadi already mentioned earlier at the conference that a startup has to try to run in survival mode. During the panel discussion was mentioned that there's nothing bad about thinking big, but may be you shouldn't act like a big spender on day one of your startup. There are many tools available that might enable you to do many things yourselves without any coding. Use a ready CMS to launch a website, use free social media tools to spread your message and use whatever available to come up with a first minimum viable product.