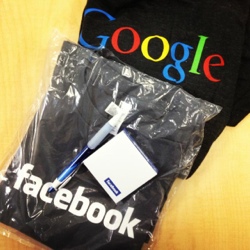 When thinking about Silicon Valley we all think about companies like Google and Facebook. Therefore, it was really great we were able to visit them. As I wrote before the first Silicon Valley impressions were a bit mixed. The living and commuting conditions are not as great as I would expect. The work environment on the other hand is very inspiring. Today's company visits combined with a private visit to Palo Alto should provide a more in-depth experience of the Silicon Valley climate. And they did!
Silicon Valley hosts incredible companies
Probably there's no place on our planet where you will find so many world-famous companies so close to each other as in Silicon Valley. Wherever you go you will find some very well-known brand. We started our day with a visit at a probably less know, but for sure not less important company, KLA-Tencor.
KLA-Tencor serves the semiconductor equipment industry and also a number of other industries, including the light emitting diode (LED), data storage and photovoltaic industries, as well as general materials research. It's one of the most important providers for Intel's microprocessor factories. KLA-Tencor helps nanoeletronics manufacturers manage yield throughout their fabrication process—from research and development to final volume production. Because of this yield reduction a company like Intel manages to deliver the processors at for the consumer affordable rates.
The machines they produce have to be able to find all kind of errors on very small surfaces in no time. Just imagine yourself dropping a coin somewhere in San Francisco. Their tools would be able to find it within seconds.
The amazing full service Facebook campus
I was lucky to being able to visit the brand new Facebook campus, Menlo Park. It's not so easy to get in and of course you have to sign an NDA, but once you are in they show you everything. It was really impressive. The campus alike work area provides everything you might need: restaurants, barber, bike mechanic, coffee corners, drinks, showers, whiskey etc and everything for free. We were even told it happens that people don't leave the campus for weeks or even months.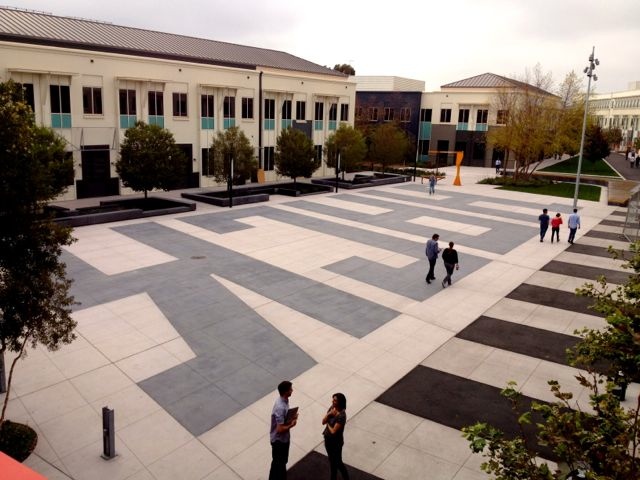 The vast majority of people walking around the campus is rather young, friendly, relaxed, motivated and very proud. The atmosphere is really open, people have access to almost everything, meeting rooms are without any blinds, Mark Zuckerberg is sitting in between his co-workers.
We even passed Mark Zuckerberg's desk, unfortunately he was not there.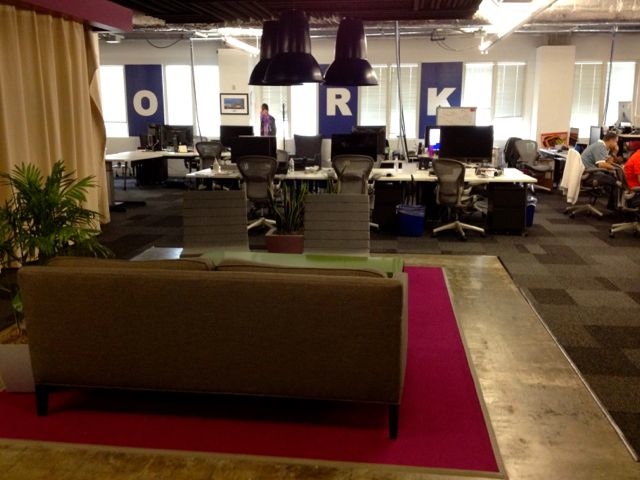 The office is one big, massive open space. I'm pretty much sure that many software developers working elsewhere wouldn't like to work like that, but at Facebook nobody seems to bother.
And with all the other facilities and the wide variety of food choices, from grill through wraps up to sushi, all for free, it's  may be not that strange people like to work here, although it seems something started to change ….
Googleplex showing what a big corporation Google became
It might sound pretty amazing, but the next job was to search for the Google office, Googleplex. The Googleplex is the corporate headquarters complex of Google, Inc., located at 1600 Amphitheatre Parkway in Mountain View, Santa Clara County, California, United States, near San José. Honestly, it's more like some kind of a town. It's a very huge complex.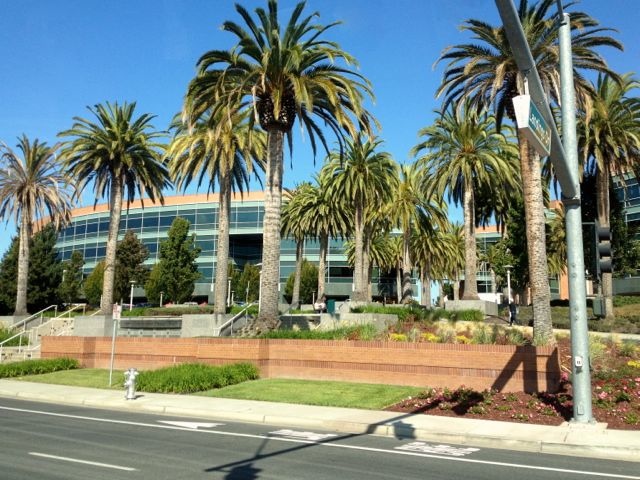 Here plenty of restaurant, food stores, coffee corners, etc. as well and just like at Facebook this is all for free for Google employees.
During our tour we are not allowed to take pictures and most of the office space is not accessible for visitors, opposite to our very open tour at Facebook. It all together gave me the feeling Google has become already a lot more corporate, something that was later on confirmed by a Dutch entrepreneur living and working in the Bay Area. Google as an employer is not that hot anymore for the majority of the people living in Silicon Valley. Most of them prefer to work for startups.
Still looking for the vibes and guess where I found them
Although, it was pretty amazing what we did in about two days, I still didn't find that real Silicon Valley feeling. The real startup pitching and deal making atmosphere. The feeling at Facebook was really good, but that changed again at Google.
I decided to skip an organised dinner to visit the place where it "all started", Palo Alto. The city includes portions of Stanford University, is headquarters to a number of Silicon Valley high-technology companies, including Hewlett-Packard (HP), VMware and has served as an incubator to several other high-technology companies, such as Apple Inc., Google, Facebook, Logitech, Sun Microsystems, Pinterest and PayPal. Among others Steve Jobs used to live here and one of the first Apple Stores opened its doors here 11 years ago. The old store closed for good just some days after my visit and a new one has opened.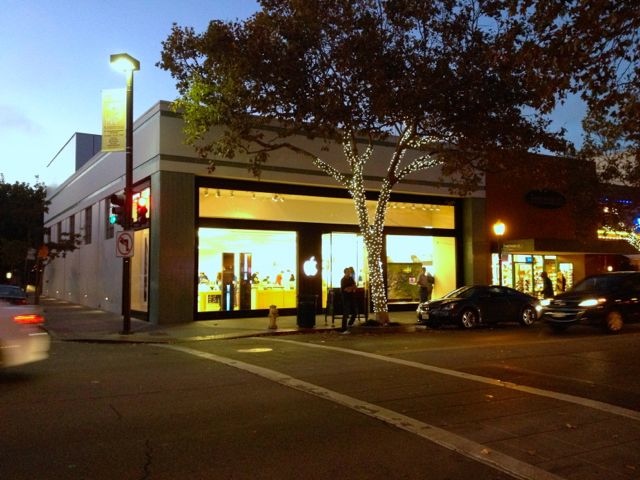 Palo Alto is a very special city. It is one of the most expensive cities in the United States and that is immediately clear when you enter, beautiful houses everywhere. The city center boasts of entrepreneurship and during the day a lot of pitching and deal making takes place, among others at the bar I visited together with two Dutch entrepreneurs, Coupa Café. Even the owner, Darius, of a newly opened Persian restaurant, opposite the old Apple Store, proved it. He was pitching his food and restaurant all the time and he did a good job.
Silicon Valley is great, but things are changing as well. Previously very popular companies like Google are becoming just like other corporate companies. Facebook seems still to be cool to work for, but soon that might change as well. As soon as the employees can sell their shares, some of them might do so. With the money earned they will start new startups to build another cool company again. 
Checkout the other US Mission blog posts.