When preparing for the US Economic Mission it was hard to expect what would really happen. Of course I was very excited, and as I mentioned before, a bit nervous as well. The first days in Silicon Valley were pretty amazing. Tired because of traveling and a very short first night we immediately did awesome things during the first days. We started with a visit to Intel, the company which had and still has an enormous impact on the way we work and live today. And visits to business accelerators with great pitching and business meetings made the day complete.
Intel inventors of today's microprocessors
The first bus ride took us to Intel's headquarters, the Robert Noyce Building in Santa Clara, California. It became clear that commuting isn't a real pleasure, although the majority of the cars is rather beautiful. Heavy traffic causes traffic jams the whole day around. The public transport is not really an alternative. Just about once an hour the train takes you from San Francisco to San Jose. The last train leaves already 21.30 as we found out.
We started with a round tour through the impressive Intel Museum, showing the history that has led to today's microprocessors which can be found in almost any computer. Intel has developed from a handmade memory producer into the worlds leading processor developer. The video below let's you experience the museum yourself.
[vimeo 34800305 w=640]
Today designing a new processor costs about $500 million. Intel invests $12 billion every year into processor production. Amazing to see that sand (molten silicon) with the help of a pure crystal, an invention by the Polish scientist Jan Czochralski, who discovered the method in 1916 while investigating the crystallization rates of metals, can be transformed into a big cone of base material for processors of 40 layers, being less than 0.7 mm thick.
Keeping up with Moore's law is becoming increasingly challenging. Every two years they have to build a new factory using the newest technology to keep up with this law. A factory costs $ 7 billion and makes it close to impossible for new entrants to start producing a microprocessor.
Groundbreaking research focussed on changing today's rules is what entrepreneurs could focus on according to Dominik Schmidt, Director of Technology at Intel Corp. The ideas and filing the patents, that's what it is about. That's what brings the value to a company according to Dominik. Of course 8 out of 10 innovations fail, but that's the only way to learn. Failure helps you to improve.
Gaining the startup pitching feeling
Of course there are many world-famous companies in Silicon Valley, but probably even more important is the startup scene. The entrepreneurial mindset made out of Silicon Valley what it is today and will remain a very, if not the most, important driving force. Entrepreneurs with a good idea come to Silicon Valley to find funding for their ideas. That's why pitching is the most important part of their life. And in fact you're pitching there the whole day, because the most important question is: "What do you do?", wherever you go.
For outsiders, so for sure for us Europeans, this is a different way of presenting ourselves. Therefore, we were offered a pitching workshop at US Market Access in San José, California.  US Market Access Center, US MAC, is a non-profit business accelerator located in Silicon Valley. They claim to give International tech companies a fast and successful access to the US Market. For sure we learned here how to improve our pitches and to be more clear about our aims.
We also visited another accelerator, The Plug and Play Tech Center. Headquartered in Sunnyvale California, Plug and Play's network includes over 300 tech startups, 180 investors and a community of leading Universities and Corporate partners. Honestly, their offering was more impressive than what US MAC showed us before. Many startup companies are located here for about 3 months to get accustomed to Silicon Valley and to be introduced to Venture Capitals and/or potential business partners.
We were rather lucky, because in the afternoon we could join the CloudScale event where several companies were pitching their ideas. It was inspiring to hear some great pitching examples, but also good for us to see how some of these startups were struggling to send their message.
In the end it's all about business
Of course learning from what's happening in Silicon Valley and getting inspired were among the important reasons for the US Mission, but we were hoping to find US market entries as well. In the end it's everywhere all about business. And in Silicon Valley it's especially about multi billion dollar business. They are only interested in scalable business enabling a very good return on investment within 3 up to 4 years. Honestly, this short term result focus is one of the things I don't like in Silicon Valley.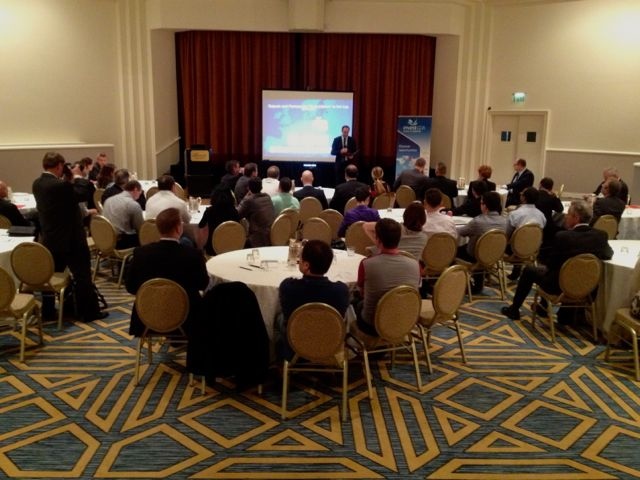 During the first business mixer in The Fairmont in San José we had the first opportunity to present us to the local business community and to "mix" with them afterwards while enjoying good food and drinks. Personally I was very satisfied by the people and the business potential I met that evening.
We left The Fairmont tired, but satisfied. The fact that we missed the last train (as mentioned before it was not that late yet, just 21.30) didn't bother us. We found a nice cab driver who took us all the way back to the hotel.
Honestly, when driving through Silicon Valley I was not that impressed. Traffic jams make commuting rather slow, the public transport system is a bit disappointing and houses and office buildings are not that impressive. On the other hand  the skyline is amazing and the entrepreneurial way of thinking is impressive and inspiring at the same time. It's going about business here, real multi billion dollar business. More to follow.
Checkout the other US Mission blog posts.